Canadians love living in a bilingual country – at least, 80 per cent of us do – according to a 2016 Nielsen survey.

Since the Official Languages Act was passed in 1969, Canada's linguistic duality has played a crucial role in the unification of the culturally diverse country we call home.

Now, in 2016, many Canadians continue to support this law as it guarantees the equal status of English and French. In a recent news release, the Commissioner of Official Languages, Graham Fraser, said "Canada's gradual acceptance of linguistic duality has made us more open, more inclusive, and readier to welcome others in our society."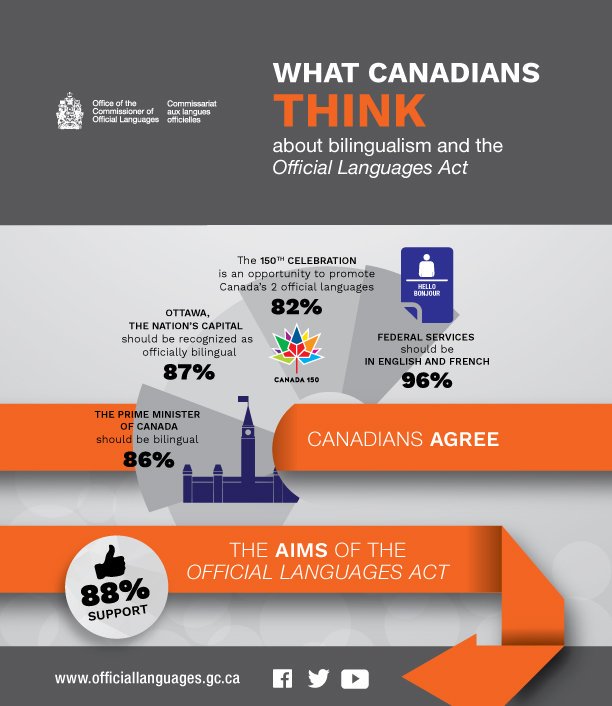 Not only that, but being bilingual has many social and cultural benefits that can help people in personal and professional lives as well. When looking for a job, the ability to communicate in English and French can open many doors and set you apart from the rest. There are many industries where bilingualism is considered to be a strong asset, such as health care, travel, education, customer services and social services.

That being said, despite living in a English and French speaking country, not all of us know how to speak in both official languages. This presents a significant barrier to job opportunities as many employers are looking for "bilingual" as an essential skill on a candidate's resume (especially when you live in the country's capital city).

If you face The Language Barrier, do not worry. Here's a few ways to learn or improve a second language and overcome this barrier:

Start learning now: There are many resources available for you to take advantage of. Such as, night classes at a local college or university, online courses, and language learning books.
Immerse yourself: You should try to read the newspaper, watch the news, and talk with locals in your second language as often as possible.
Take responsibility: It is up to you to stay on track and it is your determination that will help you succeed.
Start small: Set SMART (Specific, Measurable, Attainable, Realistic, Timely) goals.
Do not give up: Yes, it is hard to learn a new language, but in the end, it will be worth it. Remind yourself why you are doing this and stay motivated.